You're In Good Company
[TAM] Team Action Management™, the combination of both DeepAudit™ and ChangeProtocol™ is a programme originally devised to accommodate participative management techniques and has academic roots in the psychology of fairness. It uses the platform of organisational fairness to drive and deliver performance on behalf of the Board of Directors.
[TAM] Team Action Management™ has been delivered extensively for many years to organisations who understand that involving people at the point of change or improvement, actually multiplies the positive results.
Tetley
Profits rose from £25,000 per years to over £2.5 million over a four year period.
John Massarella - Finance Director
arvato UK & Ireland
Great support tool for outsourcing 200+ staff from Local Authority to arvato, a private business. Using [TAM] Team Action Management™, the company was able to engage with these displaced staff by managing change. The [TAM] Team Action Management™ documentation provides hard evidence of the measureable impact that it is having on the business... auditable, provable, usable ROI for the [TAM] Team Action Management™ investment!
Peter Schriewersmann - Client Director
Caledonian Tractor
[TAM] Team Action Management™ diversified and improved sales by 33% within four months.
Bob Ford - Managing Director
Kier Asset Partnership Services
[TAM] Team Action Management™ was a great help for integrating Kier Property Maintenance and colleagues from the Facilities Management of Sheffield City Council property portfolio. It helped the workforce of mixed blue and white collar make a smooth transition from a public to a private, commercial mindset. [TAM] Team Action Management™ provided "buy in" and "trust" to employees entering a workplace with a totally new culture.
Mark Steed - Director
The Wensum Company plc
Share price went from 30p to 145p within 18 months of implementing [TAM] Team Action Management™; making £2,000,000 in capital gain.
Michael Hall - Finance Director
WFO Group
[TAM] Team Action Management™ has returned both savings and additional revenue; brought about by new idea exploration equal to many times its cost in a very short time.
Andrew Frith - Group CEO
City of Edinburgh Council
The City of Edinburgh Council opted for the [TAM] Team Action Management™ approach to staff engagement as it offered a unique package in terms of its structure, component elements and delivery timeframe; and fitted in well with the Council's internal change methodology.
Jennifer Wilson - iPFM Programme Change Manager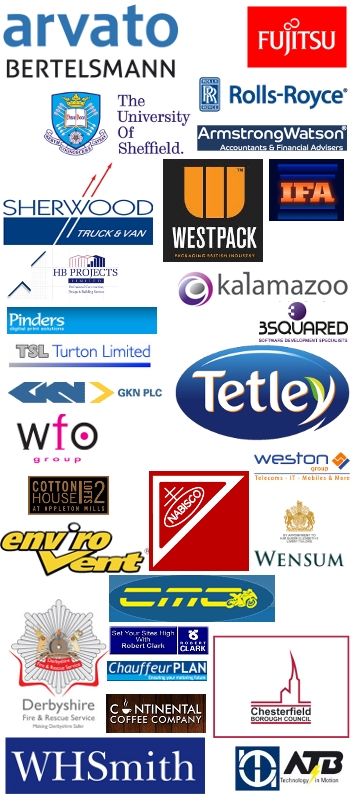 Client List
While this list is inevitably incomplete due to constantly adding new clients, it will hopefully provide a useful list of organisations who have used the Team Action Management programme, and the effect it had on their operations
Caledonian Tractors & Equipment Co. Ltd

Notes: MD too involve with day-to-day matters. Strategic opportunities lost. Longer term development programmes deferred.

Results: Diversified into Fork Lift Trucks and Bob Ford MD won the best agency award and received a one month paid family trip to Hawaii.
J.Lyons Tetley Tea Ltd

Notes: Government controls, price, pay; no incentives; low productivity; Competition; commodity product; no room for innovation

Results: Profits rose from £25000 per year over £2.5 million per year
Anglia Canner Ltd

Notes: Excessive inventory; low return on capital; no capital resources; low margins; overcapacity in Industry

Results: Sales of the group rose from £3 million to over £800 million with a return on capital in excess of 30%
W.H.Smith & Son Ltd

Notes: Restrictive family traditions; lack confidence in risk taking and innovation; losing market share; cash in bank attracting take-over bids

Results: Shares split 10 to one and quadrupled in value
Ashlow Steel & Engineering Ltd

Notes: Big company takes over small one; systems don't fit; politics; loss of incentives; cash drain; no controls; thin management team; mgt. styles not compatible

Results: Became a major player in the steel rolling plant design and construction market until politics at group level (Briden Wire & Cable) destroyed the company
Roche Products Ltd

Notes: History of bad industrial relations between England & Scotland; low yields; low morale; slow response to technical changes; passing blame; not taking initiative

Results: Instead of closing the plant, as planned, today it is the worlds largest producer of Vitamin C
J.W. French (Milling & Baking) Ltd

Notes: Overcapacity in industry; rigid price controls low margins commodity product, merger of two large companies with different values; intense competition

Results: Captured over 20% of the bread market and forced Spillers to acquire the merged companies or go out of the bread business. Spillers elected to buy the merger giving J Lyons a massive capital gain all within 9 months
Mapleton's Foods Ltd

Notes: Inexperienced management; low profit margins; inept distribution; poor product range; poor product development; poor production facilities; cash; rising losses

Results: Made it possible for the owner to immediately sell the operations to Cadbury Schweppes for £500,000
Angus Foods Ltd

Notes: Catastrophic loss of raw material supplies; thin management; no contingency plans, convention and tradition

Results: Became the largest canners of fruit and pie fillings in Scotland
University City Science Center - USA

Notes: Profit motive not understood; professional jealousy superiority complex - "N.I.H factor"; no management skills

Results: Instead of liquidation went on to become the largest science centre in the USA
Faultless Starch/ Bon Ami Co. - USA

Notes: Younger generation not allowed to manage; technical change causing market to collapse; no product development; internal social and family relationships

Results: Instead of liquidation is now a major distributor (expanded by 16x's) of household chemicals and garden accessories in the USA
Bemrose Corporation

Notes: Management politics; unfairness seen to be created by promotion; loss of autonomy seen by creating "The Group"

Results: Today is a thriving public company
Bemrose Flexible Packaging

Notes: Rapid promotion without prior training insecurity; mistrust between members of parent and subsidiary; social barrier between top and subsidiary management; no planning and budgeting skills

Results: Doubled in size and profits and then sold
Coffenco International Ltd

Notes: Individual wanted to get his own business without family or other social connections high taxation, high interest rates, no borrowing power

Results: Company grew from - 0-employment to 45 staff and sold
Seguros America Banamex - Mexico

Notes: Hostilities between Senior Executives resulting from principal shareholder promoting his son over the head of the older executive who had been for 25 years responsible for building the company

Results: Became the leader in insurance and re-insurance in Mexico
Nordisk Aluminium a.s. - Norway

Notes: Low productivity; poor profitability due to long history of industry socialism and the weather patterns of Norway

Results: The contribution to improved profits led to the sale of the group to Sweden
Ardal of sunnadal Verk a.s. ASV - Dusseldorf

Notes: Start-up of a new sales office to represent all the divisions of the parent company in a foreign country

Results: Became a major factor in the sale of aluminium in Germany
Coats Patons Ltd

Notes: Unsuccessful diversification into new ventures resulting in a creation of several unrelated loss-making companies

Results: Made it possible to sell off all of their diversification activities and to concentrate on their core business
L.Noel & Sons Ltd (Food Mfr)

Notes: Unacceptable profits due to low productivity, and sale of a wide range of speciality foods - some manufactured and others imported

Results: Profits increased by a factor of 4x's
Kalamazoo Ltd (Internat.mfgr. Of accounting & control systems)

Notes: Dragging and aggravated conversion from a manual internal sale and production control system to a new computerised system

Results: The computerised system was installed in less than 4 months and the company effected a subsequent turnaround
International Stores Ltd (Multinational Food & Retail Operation)

Notes: Profitably and quickly to sell off recently acquired 'cash and carry' operation then losing money

Results: Became profitable within 4 months
Tower Lysprodukter a.s. (Candle Importer) - Norway

Notes: One man start-up to create a profitable importing and consulting company

Results: The company increased in sales by a factor of 8x's and was sold to a distributor for a capital gain
Hoyang Polaris a.s. (Mfgr. Of Alu-Kitchenware) - Norway

Notes: To re-enforce sales growth of consumer kitchen utensils. World wide export

Results: The success contributed to the sale of the group to Sweden
ASV Folie a.s. (Alu-foil Mfgr.) - Norway

Notes: Excessive equipment down time; low productivity high scrap; losing money

Results: The success contributed to the sale of the group to Sweden
ASV - UK Ltd

Notes: Politics, low level sales; lack of cooperation between division MD's and salesmen with those of the UK sales office; poor coordination of specifications and customers orders

Results: The success contributed to the sale of the group to Sweden
Aluminord a.s. (Alu-fabricator) - Norway

Notes: Low productivity; high scrap; low sales; price pressure; consistent losses

Results: The success contributed to the sale of the group to Sweden
Hambledon Press Ltd

Notes: To accelerate already high profits and to continue rapid modernisation of plant and job rationalisation, to bring in the latest technology

Results: Made it possible to sell the company at 10x earnings before tax
New Ventures Group (Anthony Sharp)

Notes: Axion Electronics - company start-up; Coats Dataprint Ltd - requirement to restructure, remotivate staff, re-establish co.in the market; Easgan Fisheries Ltd - losses greater than plan due to deviations from scale-up calculations, loss of credibility with parent Board

Results: Instead of liquidation[TAM] Team Action Management™ made it possible to sell the company
Davidson Industries Ltd

Notes: An increase in profits through sales and productivity improvements was important for the reputation of the management and their career path promotion

Results: Made it possible to sell the company for a substantial capital gain
Metal Box Plc (Multi-national packaging and can mfgr.)

Notes: Reorganisation and project control for the research and development work of the laboratory was important as well as a commercial attitude

Results: Improved the total laboratory performance and prevented the closure being threatened by McKinsey
American Sterilizer Co. (International Hospital Equipment & Systems mfgr)

Notes: Reduce new product development lead time, better long range business and market planning to speed up investment decisions at Board level

Results: Made it possible for management to do an MBO and become personally wealthy
Lear Siegler Inc. (Multi-national conglomerate - Engineering)

Notes: Planned profit improvement (E.P.S.) to reinforce share price increases, better business planning and budgeting

Results: LSI was the R&D vehicle for the creation of[TAM] Team Action Management™ All of the 51 operating units improved in sales and profits during the time the[TAM] Team Action Management™ process was being used. 25 years later it was sold off
Bramah Tea & Coffee Co. (Private regional coffee and service operation)

Notes: Poor accounting controls, loss of support from principal supplier. Investigation of the company's viabiliy and recommendation for granting continued financial support

Results: The company was sold and made it possible for the owner to set up his life's ambition to have a Tea and Coffee Museum
W.H.Smith Ltd (Whitchurch-Family Steel Fabrication Operation)

Notes: Forestall liquidation proceedings by NatWest based on Touche Ross's negative report and get relief from share holders personal guarantees of the company's bank debts

Results: The business sales increased until it was possible for the personal guarantees to be lifted and the company sold. The family rescued their ownings
Rist's Wire & Cables Ltd (subsidiary of Lucas plc)

Notes: Excessive inventory of cut copper wire stock low productivity, poor morale, dilapidated plant facilities

Results: Today, is the largest cable manufacturing company in Europe
P.S.A. Supplies (Property Services Agency - Dept. of the Environment)

Notes: Requirement to create a commercial attitude into a civil service organisation and to improve the creative introduction of new methods and procedures

Results: The programme made it possible to create "Crown Suppliers" which, for several years, was the major central buying organisation for the Government. A few years later the Thatcher Government in their privatisation effort disbanded the Crown Suppliers.
Grada-Wallace Murrey n.v. (subsidiary of USA multi-national conglomerate, Engineering)

Notes: Group of 3 profit centres each losing money, high management turnover, low morale, above average salaries (yet unproductive) & excessive overheads. No strategic plan

Results: Made is possible to sell the company at a substantial capital gain
Grada-Netaline (UK Sales) (subsidiary of W.M.Inc. USA)

Notes: Sales per salesman ratio too low for profitable operation. Low salesmen morale due to varying and unstable politically oriented management in Belgium. No sales or market planning

Results: Made it possible to sell the company
Netaline Air Distribution (subsidiary of W.M.Inc USA)

Notes: Continuous losses being sustained from the time of acquisition. High management turnover, excessive overheads, poor factory performance

Results: Made it possible to sell the company
Grada (Sales Europe) (Dept of Grada n.v.)

Notes: Newly appointed Sales/ Marketing Directors requirement for a sales plan and a more realistic annual sales budget

Results: Made it possible to sell the company
Grada (Manufacturing) (Dept of Grada n.v.)

Notes: Need to more quickly re-tool and re-organise the factory operations to introduce a major new product and to meet urgent contractual commitments in the Mid East

Results: Made it possible to sell the company
J.Lyons Tetley Tea

Notes: Two comfiture factories losing money

Results: Made it possible to sell one factory and restore the other factory to profitability
Carr's Paints Ltd (Paint & Paper mfgr)

Notes: No strategic plan, need to reorganise the management structure and to rationalise the business operations

Results: The Company became the largest UK supplier of paint and painting systems to the Automobile Manufacturing Industry
Givaudan Inc. (subsidiary of Hoffman la Roche - Switzerland)

Notes: Need for strategic plan and to introduce commercial attitudes in the R&D laboratory

Results: The 2nd largest producer of perfume essence in the world
Business Planning & Development Corp.

Notes: Need to re-establish the business, re-examine attitudes, the direction and aims of the principals involved

Results: The company was started in 1970 and has survived for 35 years in a cynical and hostile market. Sales in excess of £2,000,000
Terminal Data Corporation

Notes: Two men decided to launch a company based on a new high tech micro-film system concept

Results: TAM made it possible to go public. The IPO made the founders wealthy from the sales of shares of the company
Rolls-Royce Ltd (Aero division)

Notes: To continue a 'follow up' management training and development programme having first stated with (ACL) Action Centered Leadership and to fill the need for a team building method

Results: 40 Priority Projects achieved giving profit and productivity improvements in excess of 30%
Pricerite Ltd (National multi-retail Food and non-Food chain)

Notes: Public company forecasting increased profits. Did not have a strategic plan and reliable sales and profit budgeting and control system

Results: The[TAM] Team Action Management™ process identified that the company was losing money before the auditors had realised this condition and by making corrections it was then possible to sell the company
Leckenby Company (Family owned medium size Steel Fabrication operation)

Notes: Conflict at Board level between the President (C.E.) and the Chairman/Founder. No strategic plan or agreement on the longer term direction of the company

Results: President appointed and operations became the major fabrication company in the Northwest
Intertext Group Ltd (subsidiary of International Correspondence School - USA)

Notes: Lack of direction and agreement between Board members reflected in low profits and slow product development. No strategic plan or realistic budgeting development work

Results: Made it possible to sell the company
Venesta International Packaging Ltd (subsidiary of Metal Box)

Notes: A special 'pilot' exercise was used to determine if the MD should be kept or asked to resign

Results: The MD was asked to resign
Merlin Industries Ltd

Notes: Take-over and asset stripping of small textile operations in Scotland and in Leicester (England) resulted in heavy losses and unprofitable operations for each subsidiary

Results: Made it possible to sell the company
Saphier Lerner Schindler SLS Enironectics Ltd (subsidiary USA Interior Design and Engineering Company)

Notes: No strategic plan, requirement for better sales, budgeting and project control administration

Results: TAM produced the strategic plan and introduced project control administration which led to the company going public
Chemcare Ltd

Notes: Business start up failure, despondency frustration and lack of energy to restructure the effort and redirect the development work

Results: The owner was restored to positive thinking and renewed energy. He then went on into R&D in 'slow release' chemistry
Webb Corporation Ltd

Notes: Four person start up suffering from lack of agreement and commitment on what and how it should be developed. Personal ambition of principal share holder was to build a company to £5 million and go public all in 5 years

Results: Company hit £6.5 million in 36 months and sold out to Meltex plc
East West Herbs Ltd

Notes: Alternative medical distributor with sales at £1/2 million caught with a high overdraft which could not be negotiated further. Wanted to grow and caught in a profit squeeze

Results: The company spun off the R&D into a subsidiary East West Biotec, now going public, and then sold the fulfilment side of the sales operation
Herrberger Brooks

Notes: 300 employees, losing over a £million each year the past 10 years after failing to correct the losses having worked through 4 different MD's, wanted to stop the cash haemorrhage

Results: Made it possible to sell the company
Wensum Plc

Notes: The rights issue of shares had been sold at 77p had fallen to an all time low of 30p. Directors wanted to improve the share price

Results: Share price went from 30p to 145p within 18 months making £2000,000 in capital gain and improved the salary's of the directors by a factor of 3x's. Today the shares are priced at 110p. The drop is due to the Chairman, now happy, deciding not to continue[TAM] Team Action Management™.
Mulberry Plc

Notes: Manufacturer and retailer of Fashion wear, Directors wanted to develop a group of four companies and create the management culture and style for going public

Results: Made it possible to eliminate the deep discounted loan notes and to go public with out loss of equity
Ostmann GmbH

Notes: Burns Philps had paid too much for this spice acquisition which was losing money. The Directors wanted to increase sales quickly to restore profitability

Results: Made it possible to sell this Spice company
WACE Plc

Notes: Printing Division losing £2 million per year. Wanted to make it profitable within 90 days

Results: Company broke even within 90 days and went on to become profitable and supported an MBO which now runs successfully as a stand alone
Parkwood Films

Notes: Start-up film production company required development funding to continue to seek the ultimate production funding for a script entitled 'Webster'

Results: Instead of a single product company, now has a main board, 4 scripts and 1 finished film currently in the casting stage with full funding standing by when casting is completed
Yuan Ltd

Notes: Dr John Tindall was interested in creating a company to provide Hepatitis C cure

Results: The loose federation of feudal kinds has been brought together into a cohesive team and the team is now contemplating hiring an MD to carry out the business plan created by[TAM] Team Action Management™
Drummond Plc

Notes: The Chairman of Drummond wanted to reduce costs within the group by merging two of the four operating divisions, i.e. Armatex and Strou Riley International

Results: The plan to amalgamate the two companies into a 3 business unit organisation supported by a single fulfilment operation was created and agreed in 5 working days. The following month resulted in the highest sales level in the history of either company
Einstein Channel Plc

Notes: The CEO wanted to build from scratch a world wide channel to broadcast High Tech and leading edge science content and at the same time restore the share price which had fallen to 24p back to 55p

Results: An organisation was created and programmed broadcasting was launched both in Germany and in the UK on the 25th of Jan. TEN was acquired on the 15th of Jan and the share price rose from 24p to 43.5p by the 5th of February
Thomas Waide & Son Ltd (Printer & Carton Manufacturer)

Notes: Losing money; serious overdraft with Lloyds Bank, some indication of possible calling of the overdraft and liquidation

Results: Training of all staff in finance and then developing the turn-round document converted the company from loss making to profit making and Paul Waide and Elizabeth sold the company and retired to the Canary Islands (Tenerife)
Norflex Ltd

Notes: Barclays Bank had called in their overdraft over requiring the MD to call in a Management Audit Peat Maurick who recommended closure. A liquidator had not yet been appointed. Save the company

Results: 9 Senior Staff were called together and obtained planning issues (SWOT) from all dismissed staff. A working party was formed over the weekend to create a 'save the company strategic plan'. Wednesday of the following week the plan was presented to Barclay's Bank who agreed to call off the liquidator and give the plan a chance. The plan worked and the company was ultimately sold to Polypipe for £3 million
Light Industries

Notes: Small manufacturer of light fixtures selling to retailers of lighting fixtures. Excellent design and quality but no financial information, accounts or budgets and finding a serious bank overdraft restriction.

Results: Completely computerised the accounting function, constructed two years of past accounts, conducted an audit trail and made a presentation to the bank. Obtained the overdraft and went on to create a financial budget system and a planning system to support the growth of the company into retailing with their own shop in Tottenham Road
Nabisco

Notes: Large manufacturer of packaged branded cereals and snack crackers. New Plant Manager wanted to reduce waste and improve production throughput. Total Quality Management and MBO had both failed to produce results

Results: TAM was introduced through out all operating departments resulting in production uplift of 45% and waste cut by 65%
Retainacar

Notes: Small company dedicated to car security using an etching system providing marking kits to Auto OEM's. CEO frustrated by an unsympathetic board and supported by staff worried about making changes

Results: Factory was relocated in Ashford and the Head Quarter Offices relocated in Victoria with the additions of two new OEM's and acquired an investment from Japan
UK Corrugated Box

Notes: Major international box manufacturer with 28 factories. The poorest performer in terms of profit and productivity was the box factory at Hatfield

Results: TAM was used and the box factory at Hatfield became the most successful and achieved the highest rating of all 28 factories
Edinburgh City Council

Notes: Council going through restructure and downsizing following budget cuts. Morale was low and Management were struggling to move through the distractions to implement front level service plans

Results: Directorate was able to strengthen the management team whilst engaging with all staff. A series of strategic plans were agreed, linked to existing corporate projects, and the business plan was realised
Armstrong Watson Accountants

Notes: A number of acquisitions saw the company fragmented both geographically but also culturally. This led to an inconsistent service to Clients and a loss of profit by inefficiency. Employees did not feel part of the Firm, preferring to ally with their old firm now acquired

Results: A significant engagement exercise led to the relief of comment and circumstances that prevented the larger team from forming. Service anomalies were resolved, engagement followed brand and a significant saving was identified approaching 7 figures.
Derbyshire Fire and Rescue Service

Notes: Under significant budget constraints, the need to protect front line services was critical. Engagement was polarised between fire-fighters and office staff, leading to a militant union presence

Results: Union was involved in observing the teams response to the staff engagement module. Large number of operational issues resolved, communication massively improved, significant savings cashable and non-cashable were realised. Union converted from opposing to supporting of the[TAM] Team Action Management™ programme.
GDL Air Grille Manufacturing

Notes: Company culture split between factory and office, made worse by the acquisition by a family from liquidation of the previous trading company. Deep mistrust existed, blockage to management and a reluctance to accept any changes

Results: Huge improvements in the communications between factory and office. Further acquisition made and several significant products have been designed and patented. Turnover increased and the company structure was established for further significant growth. Directors now feel they have full and positive access to their own factory